/

/

Museum News (April 24, 2023)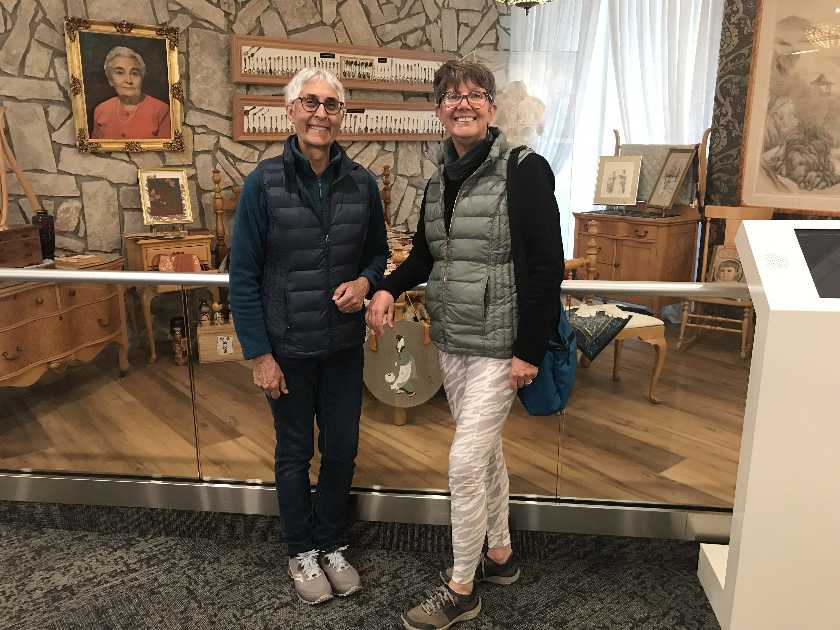 Carol Rosenweig and Charlene Grant both of Boston, MA are spending the month of April doing a self-guided driving tour of Kansas. They spent the afternoon of Thursday, April 20th exploring the Hansen Museum. These city ladies were thoroughly impres
A guilty pleasure of the Museum office staff is watching the squirrels who have made the Museum lawn their playground. It is so fun to watch them chase each other, hustle up the trees, and nimbly jump from branch to branch. After confessing my guilty pleasure to Linn McDonald last summer, Linn made me a squirrel feeder. I promptly placed this lovely gift on the ledge of the window to the left of my desk. Armed with a delicious ear of corn supplied by Logan City Clerk Kristy West, I excitedly waited for our furry friends to come feast. I waited and waited and for weeks they didn't come. I moaned and groaned and wondered out loud why the squirrels were not coming to dine at the new feeder. Evidently my lamentations were getting a little too frequent so Museum Office Assistant, April Teves, decided to "help" my situation. One morning rounding my desk to start the day, I spied a squirrel sitting at the feeder. I was so excited! Then I noticed that the squirrel wasn't moving – I became concerned. After a moment I decided the squirrel was deceased – I became sad. Then I realized that the squirrel wasn't real—I began laughing. It was quite an emotional roller coaster. April held it together until I realized the squirrel wasn't real and then she began laughing hysterically. The prankster had planted a dog toy squirrel on my feeder. After the prank, I tried to keep my mutterings to a minimum, yet I was still anxious to see activity at the feeder.
After a few more weeks, I started to notice that corn was missing from the ear and that there was a bit of a mess around the feeder. Clearly, something was coming to feed. It wasn't long and I had my first view of a squirrel chowing at the feeder. At first, I had to stay very still at my desk for the squirrel to eat to its heart's content, but now the entire Museum staff can watch, talk, and move around and not interrupt mealtime. Additionally, sometimes multiple squirrels come to dine at the same time. Occasionally disagreements erupt at the feeder, and we witness displays of dominance. It is very interesting to watch these incredible creatures up close and it gave me an idea for our Kindergarten Art afternoon.
Monday, the Kindergarteners came for their afternoon at the Museum. In honor of our squirrels, we practiced drawing animals. Step-by-step, using a simple series of lines, we guided the children in drawing puppies, fish, and butterflies. After completing their creatures, the children were then given the choice of painting or coloring with brush markers their animals. Surprisingly, half the class chose to color instead of paint. This was shocking because usually painting is king with these young creatives. Our kindergarten friends enjoyed making their animals almost as much as we enjoy watching the squirrels.
The Museum has had all manner of interesting visitors this week. The quilts are a big draw! Two friends from the Boston, Massachusetts area decided to take a month to do a driving tour of Kansas. When researching places to visit, they stumbled upon the Hansen Museum and decided the quilt exhibition was a must see. These ladies were a breath of fresh air—a true delight to host. They were so impressed with the exhibition and Museum. Taking their time, they combed through the entire Museum and all our literature. Their only disappointment was that they were not able to stay until next Thursday to participate in the upcoming Homemade Ice Cream Class with instructor Anna Schremmer.
Stop on by the Hansen Museum! There is always an amazing exhibition on view and interesting visitors which include all manner of mammals. The Museum is open Mon. through Fri. 9-12 and 1-4; Sat. 9-12 & 1-5; Sun. and holidays 1-5. We are closed Thanksgiving, Christmas, and New Year's Day. We are handicapped accessible, and admission is always free thanks to the generous support of the Dane G. Hansen Foundation. For more information or if you have questions, please contact us at 785-689-4846.?We hope to see you at the Museum.?