/

/

Author Rosie Bosse to hold a book presentation and signing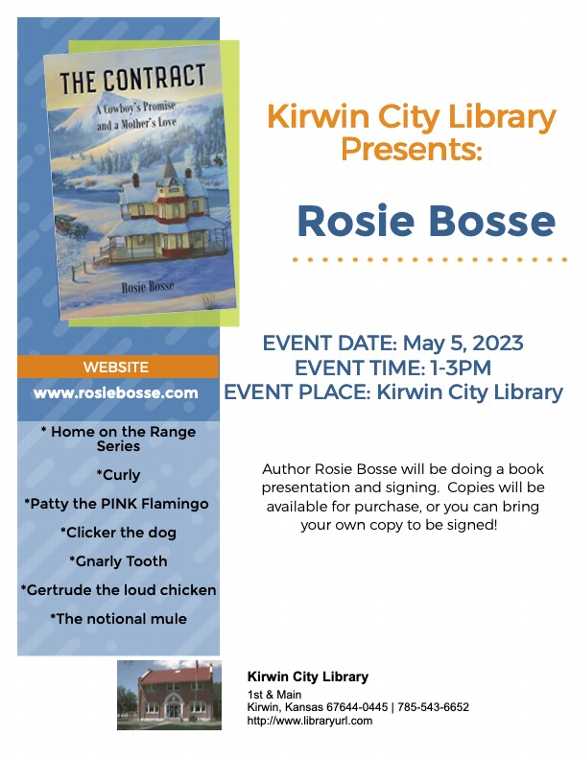 Kirwin City Library invites you to join us in welcoming author Rosie Bosse to Kirwin on May 5, 2023 for 1:00-3:00 PM. Author Rosie Bosse will be doing a book presentation and signing. Copies will be available for purchase, or you can bring your own copy to be signed! Questions, please contact Ashely at 785-543-6652 or library@ruraltel.net
Rosie Bosse was born and raised on a farm in north central Kansas where she rode horses, milked cows, fed bucket calves, chopped thistles, and hid to read whenever she could. Her parents, Kathryn Gallagher, a teacher, and Francis Eilert, a second-generation German immigrant, were sticklers on grammar, punctuation, and speech. Both were also avid readers. There was no television in her home when she was a child, and reading was a constant.
Her father was known to his friends as Ike. He was a farmer and a cattleman, but horses were his love. He read every evening when he finished his work outside. If he threw the completed book on the floor, it was reading material for the children. Rosie sat on the end of his couch many times waiting for that book to hit the floor so she could be the first child to read it. Of course, with two sisters and a younger brother, sometimes the competition was tough. This love of reading, as well as a tough English professor in college, led her toward her love of writing today.
A small ranch outside of Onaga, Kansas is where Rosie and, JR, her husband of forty-two years, make their home. This is also where they raised their four children. Her Down on the Farm series, featuring a dog named Clicker, is actually a replay of stories that she tells her grandchildren. The grandkids are her best listeners and her toughest reviewers! People ask how many books she will write. Well, there are many animals on Mr. Farmer's farm! (Side note: All of the animals in Rosie's Down on the Farm series have names but none of the people do. That was not planned. She didn't realize she was doing it until the third book was released. A psychologist could have a lot of fun with that analysis!)
Curly the Orphan Calf began as a stand-alone book and was written after the 2017 fires in southwest Kansas. As someone who grew up on a farm and is still a part of agriculture, Rosie was touched emotionally by the events there. Both the tenacity and resilience of those affected, as well as the generosity of strangers, moved her heart to write that book. Sometimes after reading it, children will tell her, "I cried when I read your book." Her response is, "I cried when I wrote it." However, she does promise that all of her children's books will have a happy ending.
Curly, the Hero Cow as well as Curly and the Terrible Tornado are both results of questions from the school children she's read to. At nearly every school where Curly, the Orphan Calf was read, the children wanted to know what happened to Curly when she grew up. The children also made suggestions of the material that should be included in the future books. In fact, there were so many suggestions that the series could continue for a very long time!
Writing a novel was not a lifelong dream for Rosie. In fact, becoming an author was never a goal. Even though she began to write poetry when she was in high school, her grandchildren were her inspiration for her first book. They created that with their love of her bedtime stories—stories that never led to a quiet bedtime! God pushed her a little to write her first novel but that is a story you will have to wait to hear about later.
Because of how this journey began and her desire for her books to be acceptable to all audiences, Rosie plans to keep all of them "clean" and free of material she would be ashamed to have her grandchildren read. However, you will see thematic violence in the novels. It was a violent time in the history of America and especially in the West where the novels take place. It was also a time when respect for women, honesty, and a strong work ethic were not only expected but were taught. Rosie brings to life those strong men and women who built this country. She gives them lives and faces. She gives them hearts and heartaches and tries to make them your friends.
Join Rosie on this journey as she creates characters who are so real to her that she often forgets they are fictional. May you feel the same way.