/

/

Museum News (May 1, 2023)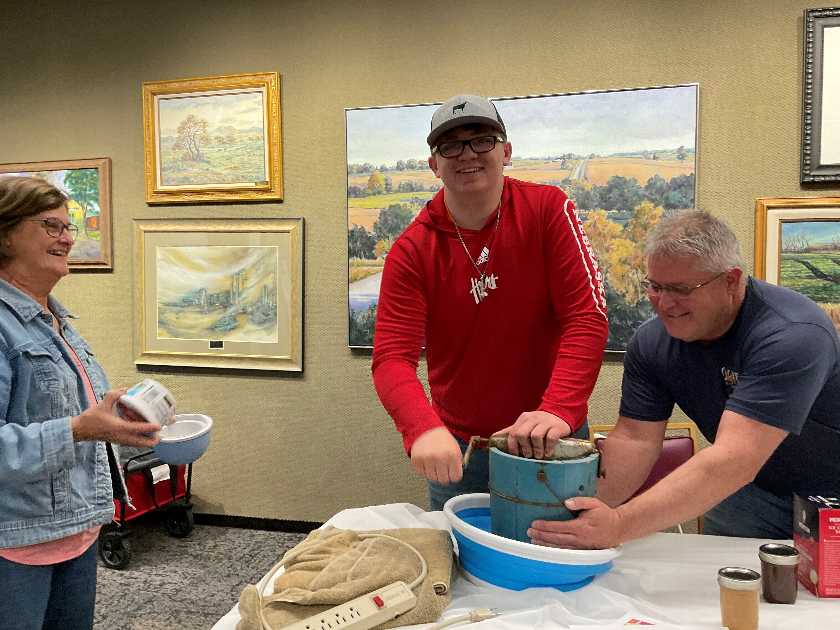 Hard work pays off – Homemade Ice Cream Class instructor, Anna Schremmer, encourages Tye West (Prairie View) and Jim Tuxhorn (Phillipsburg) to keep turning the crank on the old fashioned ice cream freezer at the Homemade Ice Cream Class at the Hansen
Sweet, smooth, cold, and creamy samples were the highlights of the Homemade Ice Cream class held on April 27th in the Community Room. Instructor, Anna Schremmer delighted participants by planning ten different ice cream flavors to demonstrate. Pairing participants off two by two, each set took a recipe and went about preparing their designated recipe. Birthday cake was the first flavor to freeze, and it was happily tasted by all! Eagerly the remaining participants forged on freezing their confectionery concoctions. One by one the ice cream freezers would stop churning and sampling ensued in earnest. Participants enjoyed many laughs as they traveled from one ice cream freezer to another enjoying the fruit of their fellow classmates' labors. Favorite flavors were Mom's Cooked Custard Ice Cream and Blueberry Ice Cream a/k/a Purple Pride. Coming in dead last on the delicious scale was an ice cream made from cottage cheese. There was no danger in overindulging on the cottage cheese ice cream—one taste was quite enough for most of the class. Being true to her generous nature, Anna made peanut butter, strawberry, and chocolate ice cream toppings and each participant was gifted a lovely pint of topping to take home with them. Thanks for a truly sweet evening, Anna!
Churning ice cream and quilts seem to go together quite nicely. Both can be quite nostalgic. While hand turning a crank on an old-fashioned ice cream freezer during ice cream class, one participant reminisced about churning ice cream at their grandparents' home. As patrons view our current exhibition Handstitched Worlds: The Cartography of Quilts, grandmothers are often discussed. Sometimes viewers are reminded of quilts that were made for them and other times it just brings warm memories of their loved one's quilting. Most men who have attended the exhibition thus far tend to be drawn to the same quilt. It is a star quilt made out of double-knit material and often they state that it reminds them of a quilt their grandmother made for them.
This Star Quilt was made by Nora McKeown Ezell from Eutaw, Alabama. Ezell is a virtuosic artist known for her improvisational quilts. In this quilt, Ezell transformed a traditional eight-point Star of Hope pattern into what she refers to as a "star puzzle" quilt. The star motif evokes celestial navigation used by enslaved people on the Underground Railroad. According to Ezell, the Star of Hope says: "Look to God for all things, take your burden to him and leave it there. He can and will fix it for you." The quilt may also reference Billie Holiday's famous song, "Stars Fell on Alabama," which Ezell cites as a "beautiful memory."
Beautiful memories are gifts that can be opened at will and yet sometimes they are brought to the forefront by catching a glimpse of something or savoring a bite of some delightful edible. Homemade ice cream was once a staple at summertime family gatherings and quilting used to be a necessity. Cooking and quilting have often been undervalued and seen as feminine enterprises, so it was delightful to celebrate both as art that was thoroughly enjoyed by both men and women at the Hansen Museum.
Handstitched Worlds: The Cartography of Quilts will remain on view through May 14th. Please make plans to come see these amazing works of art. The Museum is open Mon. through Fri. 9-12 and 1-4; Sat. 9-12 & 1-5; Sun. and holidays 1-5. We are closed Thanksgiving, Christmas, and New Year's Day. We are handicapped accessible, and admission is always free thanks to the generous support of the Dane G. Hansen Foundation. For more information or if you have questions, please contact us at 785-689-4846.?We hope to see you at the Museum.?