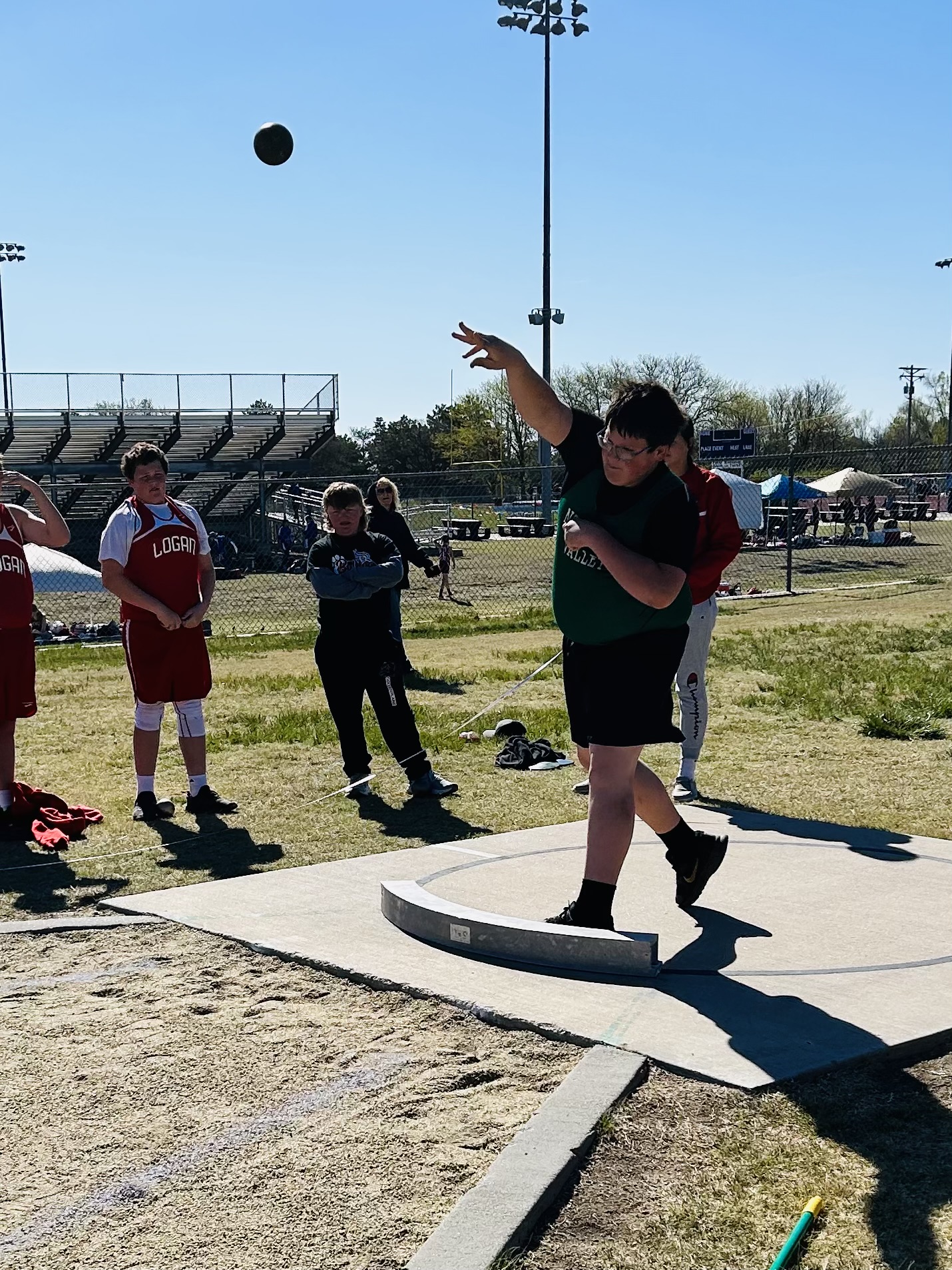 Northern Valley 6th grader Aaron Horacek placed 2nd in the shot in 6th grade division at the Logan track meet.
On Tuesday, May 2 the Northern Valley track team competed in the Logan invitational meet in Phillipsurg. There were eight schools at the meet on a nice sunny, spring day.
The NV 6th grade boys claimed third place, scoring 56 points. Cash Compton had a big day, winning four medals. First in the long jump, second in the 100m dash and 100m hurdles and third in the 200. Aaron Horacek won the silver medal in the shot and bronze in the discus. Jaden Johns added a second place finish in the 800.
The NV Jr. High boys also had a good day, placing 2nd as a team with 98 points. Tait Thalheim won a gold medal in the 100 hurdles. Lucas Hansen also won a gold medal in the triple jump and added three bronze medals in the long jump, 200 and 400. Griffin McKinney won two medals, silver in the 200 hurdles and bronze in the shot. Conner David had a PR in the discus throwing 102' and placed second.
Northern Valley 6th grade boys results – 3rd Place
100m 2nd – Cash Compton – 14.1
200m 3rd – Cash Compton – 29.8
800m 2nd – Jaden Johns 4:00.5
100m Hurdles 2nd – Cash Compton – 20.7
Long Jump 1st – Cash Compton 13' 8"
Shot 2nd – Aaron Horacek – 24' 11", 5th – Levi Black – 21' 10"
Discus 3rd – Aaron Horacek – 55' 4"
Northern Valley Junior High Boys Results – 2nd Place
100m 4th – Wyatt Compton – 13.0
200m 3rd – Wyatt Compton – 26.9, 4th – Lucas Hansen – 27.7
400m 3rd – Lucas Hansen – 1:04.8
1600m 6th – Peter Towne – 6:16.8
100m Hurdles 1st – Tait Thalheim – 18.1, 5th – Griffin McKinney – 18.8
200m Hurdles 2nd – Griffin McKinney – 32.3, 5th – Tait Thalheim – 33.6
Long Jump 3rd – Lucas Hansen – 13' 6"
Triple Jump 1st – Lucas Hansen – 30' 0", 5th – Tait Thalheim – 28' 6"
Discus 2nd – Conner David – 102' 11"
Shot 3rd – Griffin McKinney – 33' 2", 6th – Wyatt Compton – 30' 3"
Pole Vault 4th – Tait Thalheim – 7' 0"
400m Relay 4th – Miller, Brown, Martinez, Hitt – 1:15.4
800m Relay 4th – Miller, Brown, David, Towne – 2:13.1
Medley Relay 2nd – Towne, Brown, Compton, David – 2:10.7
Northern Valley Jr. High Boys Track Stories: (4)