/

/

Giving Back Builds Pride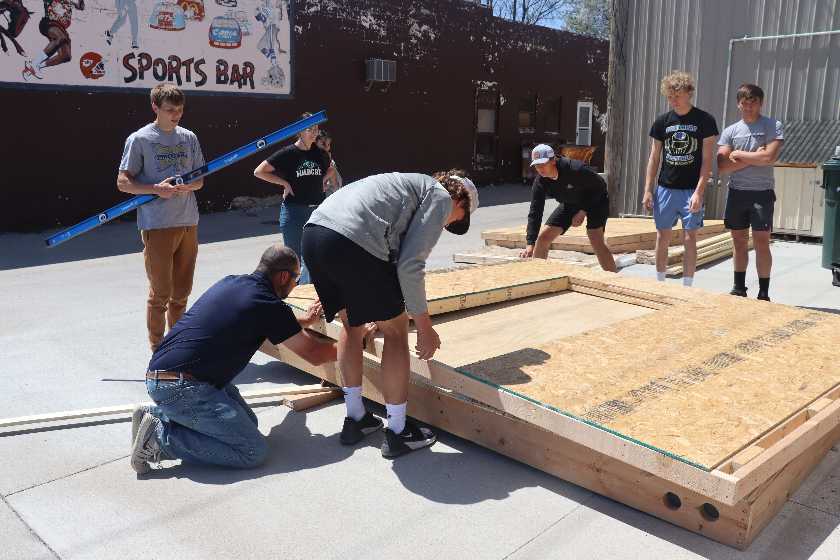 Preparing to raise the wall, students in Conrad Corman's woods classes construct a building for the Methodist Church Thrift Shop.
Giving back to the community is a big thing for some teachers, so much so that they have their classes participate in activities in order to achieve this. Phillipsburg High School Woods teacher Conrad Corman used the skills of his woods classes to give back to the the United Methodist Thrift Shop.
"Through education in college and different jobs I had, I was able to peruse my business [Tri-C Woodworking] in tow, and it gave me connections. I think it's good for the kids to be giving back to the community and give them a sense of pride," Corman said.
Students have also been thankful for the chance to give back and do something kind for a local business. Senior Jaden Belles is one of the students participating in this project.
"I'm happy to use my skills and what I've learned in that class to be able to use them for the community," Belles said.
Kay Preston, a volunteer at the UMW Thrift Store, was happy that the Thrift Store and school were able to communicate well and get this project moving.
"We needed something bigger because we have a lot of things to store. When we were talking about this problem, someone mentioned the school, so I got a hold of Conrad and asked if he would be interested in building a shed for us. He responded and said that they had been looking for a project. We told them how we wanted it built and what colors we wanted it. It worked out perfect," Preston said.
This project gave the students a valuable lesson about helping others while providing something for a local business. The total project will be complete by the end of the year.