/

/

Museum News (May 8, 2023)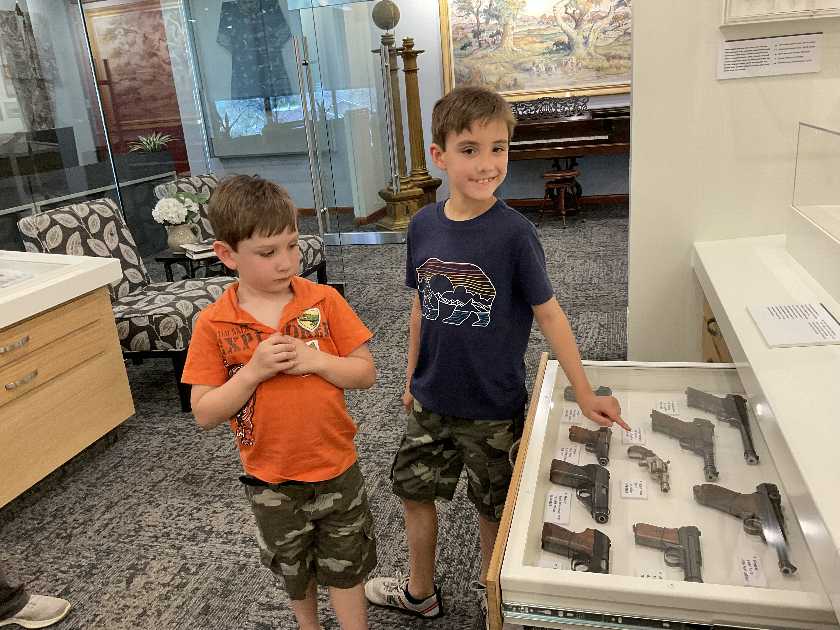 California siblings, Bryan Orton, Jared Orton (both of Bakersfield), and Cherie Buble (Tehachapi) in Logan to visit family take time to check out the exhibits at the Hansen Museum.
This past week, guests from California, Alaska, and Kansas enjoyed our current exhibition Handstitched Worlds: The Cartography of Quilts. It is always interesting to hear their thoughts on the exhibition. Often, we ask which was your favorite and why. Two little fellows who are really into maps came to see the exhibition with their mother and grandmother this past week. Their mother had read about the exhibition and decided the unique invitation to read quilts as maps, tracing the paths of individuals quilters and their view of larger historical events would be interesting to their whole party. The young men enjoyed the quilts, but they loved the gun and knife collection (seems reasonable).
Another guest this past week chose the Charm Quilt as her favorite. An unidentified artist sewed together two thousand sixty-eight patchwork squares to create the Charm Quilt. Traditionally, charm quilts represent vast collections of textile scraps—a unique swatch for each square of the quilt. Although this example contains a few duplicates, the dazzling variety of fabrics nonetheless provides evidence of the abundance of commercially produced textiles available at the turn of the twentieth century. One guest recently stated the Charm Quilt made her think of a digital picture that was zoomed out so much it became pixelated. To her, each one and a half inch square was like an individual pixel. Such an interesting point of view and once she shared her impression, it became very clear to see the quilt as a photograph.
Charm quilts were/are a popular way to use fabric scraps. Often, they contained material from articles of clothing that were no longer suitable for wearing. These little nuggets of clothing represented different ages and stages of family members making these coverings like a textile family scrapbook, which absolutely lines up with the idea of comparing the Charm Quilt to a pixelated photograph. So glad this visitor shared her thoughts!
May's Artist of the Month is soaper Angie Berens. Angie started making a basic oatmeal bar soap approximately fourteen years ago and has since expanded her enterprise to include all manner of colorful and delightfully scented bath and body products. The gallery has taken on the aroma of a spa thanks to Angie's luxurious products. Quality products at a very affordable price, these goods make perfects gifts and are wonderful to keep on hand. Available for purchase throughout the month of May, stop in to stock up.
Handstitched Worlds: The Cartography of Quilts was organized by the American Folk Art Museum, New York and is toured by International Arts & Artists, Washington, DC. The last day to view these amazing works of art is May 14th. The Museum is open Mon. through Fri. 9-12 and 1-4; Sat. 9-12 & 1-5; Sun. and holidays 1-5. We are closed Thanksgiving, Christmas, and New Year's Day. We are handicapped accessible, and admission is always free thanks to the generous support of the Dane G. Hansen Foundation. For more information or if you have questions, please contact us at 785-689-4846.?We hope to see you at the Museum.?