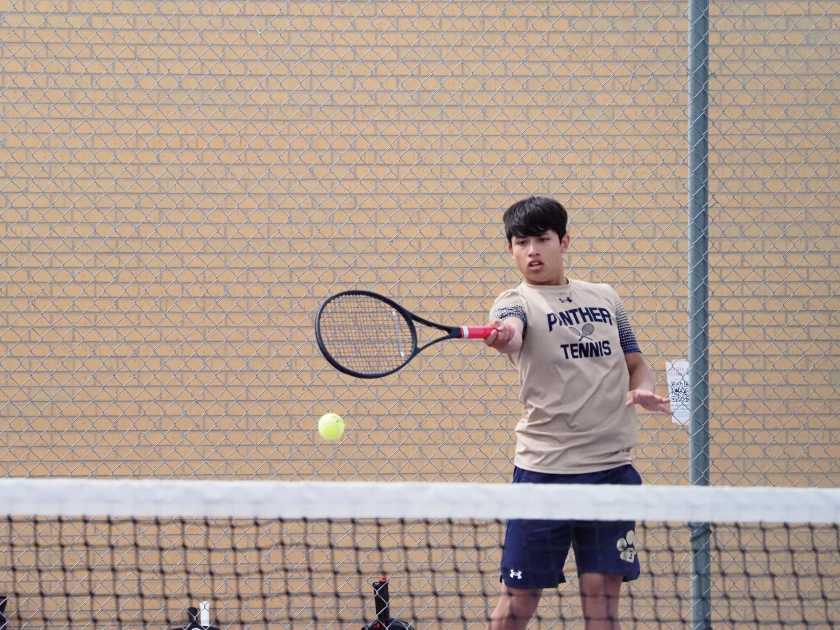 Layton Wyatt earned Phillipsburg's first trip to boys' State Tennis. Photo by Bethany Jessup.
The Phillipsburg High School tennis teams made history at the regional meet on May 4-5 at Wakeeney when sophomore Layton Wyatt became the first state qualifier for the two-year old program.
Wyatt went 2-2 on the day and defeated teammate sophomore Nathan Fischer to move to the qualifiying match.
The team as a whole finished sixth in the regional meet with three points. Scott City took home the gold with 23 points.
Wyat will attend the state meet on May 12-13, at Wichita Collegiate HS in Wichita.
Individual Results:
Singles: Layton Wyatt, 6th place, state qualifier
W Aaron Owen (Goodland) 6-1, 7-5
L Nate Shears (Goodland) 2-6, 1-6
W Nathan Fischer (Phillipsburg) 6-1, 7-5
L Vincent Lynn (Meade) 3-6, 6-4, 2-6
Singles: Nathan Fischer
W Konner Smith (Cimarron) 6-4, 6-7(4), (10-5)
L Peyton Ryan (Central Plains) 0-6, 0-6
L Layton Wyatt (Phillipsburg) 1-6, 5-7
Doubles: Jaidon Allen/Carsen Meitl
L Pe Dody/Hurley (Central Plains) 6-4, 2-6, (9-11)
Doubles: William Jessup/Cash Roth
L Dyck/Lynn (Meade) 0-6, 0-6
Phillipsburg High School Boys Tennis Stories: (3)