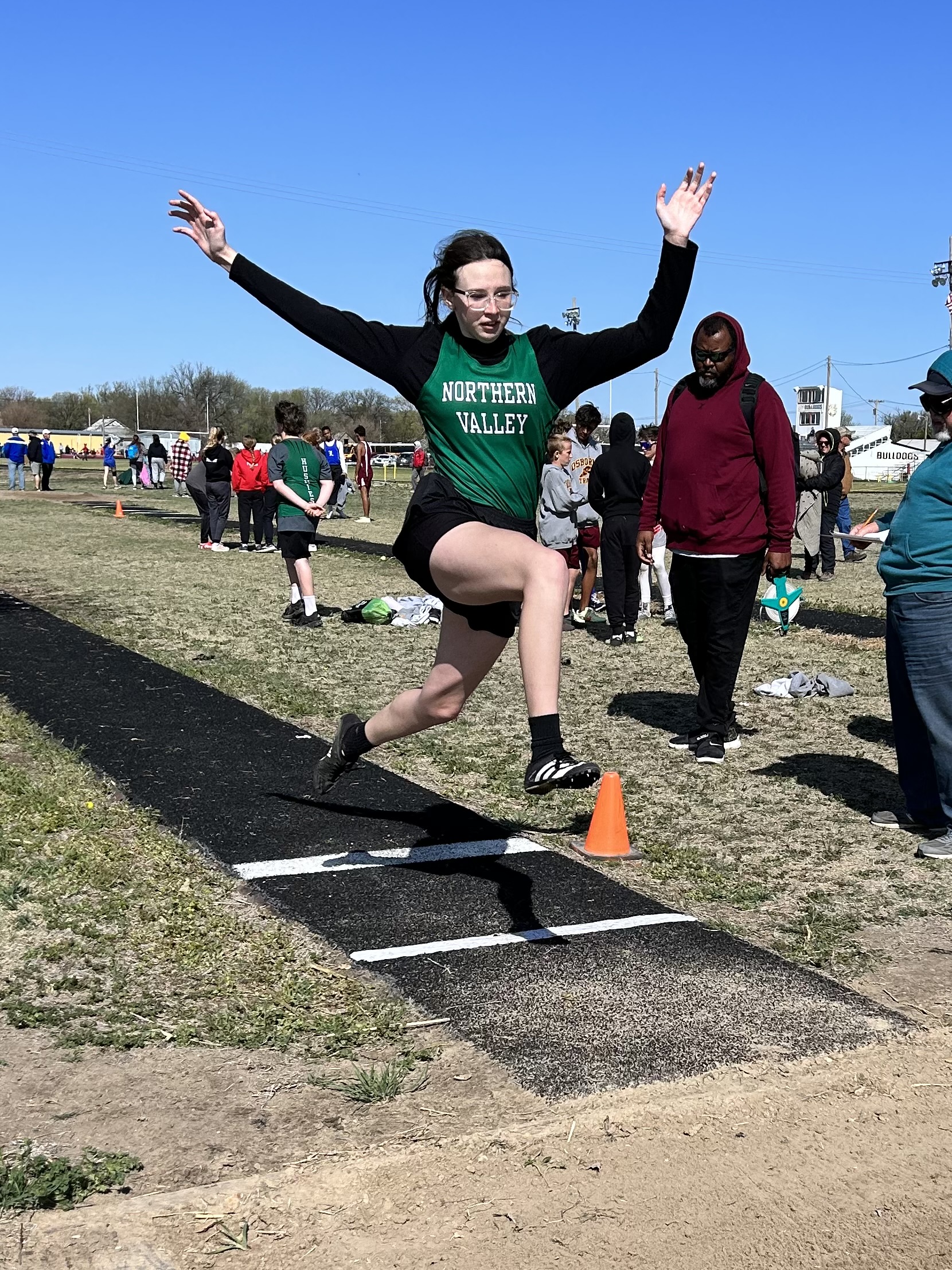 Rene' Horacek long jumping. Courtesy photo
The Northern Valley Middle School girls traveled to Hill City to compete in the Western Kansas Liberty League track meet. The Lady Huskies had a great day setting 15 personal records and finishing third as a team with 73 points.
Individually the girls won four bronze medals: Jordyn Cox in the 100m hurdles, Haedyn Cox in the high jump and pole vault, and Trista Smith in the discus. In addition, winning silver medals were Jordyn Cox in the pole vault and 200m hurdles and Iris Schemper in the discus. Jordyn Cox won the only gold medal for the day setting the meet record in javelin with a throw of 81' 3".
Northern Valley 6/7/8th Girls Results – 3rd Place
Discus 2nd – Iris Schemper – 74' 9"
3rd – Trista Smith – 70' 11"
5th – Rene' Horacek – 62' 0"
Shot Put 4th – Iris Schemper – 29' 3.25"
Javelin 1st – Jordyn Cox – 81' 3"
Pole Vault 2nd – Jordyn Cox – 7' 6"
3rd – Haedyn Cox – 6' 6"
High Jump 3rd – Haedyn Cox – 4' 6"
Long Jump 4th – Rene' Horacek – 13' 5"
Triple Jump 6th – Jaycee Gebhard – 24' 10"
100m Hurdles 3rd – Jordyn Cox – 18.19
200m Hurdles 2nd – Jordyn Cox – 33.67
3200m 5th – Jaycee Gebhard – 15:45.21
400m Relay 6th – Andrea Meraz, Abby Samuelson, Rene' Horacek, Kylee Ledbetter – 1:03.32
800m Medley Relay 6th – Andrea Meraz, Josie Nech, Rene' Horacek, Jaycee Gebhard – 2:24.71