/

/

Museum News (May 22, 2023)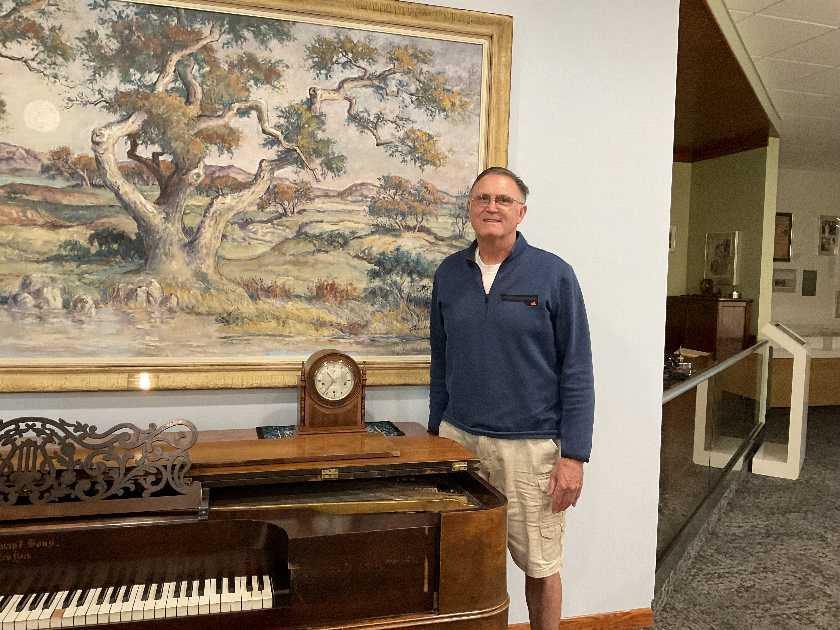 Clock aficionado, Bob Jackson (Logan) poses with the beautiful New Haven mantle clock he and wife Sue donated to the Hansen Museum. Originally owned by the Hansen family, this clock was gifted to Sue's father Lyle Eckhart by Polly Bales.
Elegant chimes can now be heard in the history portion of the Hansen Museum thanks to a lovely New Haven mantle clock that has been generously donated by Bob and Sue Jackson. This clock has roots in Hansen history as it was a part of the Alpha Hansen household until the passing of Kate in 1968. Mr. Hansen lived in this home with his mother and sister until his death in 1965. At Kate's passing, Polly Bales (Mr. Hansen's niece by marriage) gave the clock to Lyle Eckhart (Sue Jackson's father).
The clock is an "eight-day pendulum chime clock" with a model name of "Durham" and was in working condition when given to Mr. Eckhart. The Eckharts enjoyed this mantel clock in their Topeka, KS home until 1983 when their home was destroyed by a tornado. Miraculously, the clock survived the tornado only suffering moderate damage to both the body and works.
Sometime after the tornado, the Jacksons ended up with the clock and under Bob's expert care, the clock has been beautifully restored inside and out. Knowing the history of this handsome timepiece, Bob thought it only fitting that the clock be given to the Museum. We were ever so delighted to accept this marvelous piece of Hansen history and even more overjoyed that Museum visitors can now enjoy the very same chimes that were once a part of the Hansen's everyday life. Thank you, Bob and Sue, for donating this lovely piece of Hansen history—we will cherish it!
The Crocodilian Scratchboards exhibit is incredible! John Agnew's affinity for these amazing creatures is abundantly apparent in his artwork. His choice of medium—scratchboards, a board coated with kaolin clay and then covered with India ink—provides great contrast allowing such depth to recreate the scaly textures. Agnew's talent is immense, making this exhibition a must see.
Aroma is a powerful sales tool. May Artist of the Month, Angie Berens, unquestionably comprehends this approach. Her bath and body items smell delightful and are selling quite nicely. Angie has handmade soaps, scrubs, bath salts, deodorants, lotions, and other such goods. These items are on display through the month of May. All Museum members are entitled to 5% discount on Artist of the Month purchases which makes these already reasonably priced goods even more affordable.
The Crocodilian Scratchboards exhibition will be on view through June 24th. The Museum is open Mon. through Fri. 9-12 and 1-4; Sat. 9-12 & 1-5; Sun. and holidays 1-5. We are closed Thanksgiving, Christmas, and New Year's Day. We are handicapped accessible, and admission is always free thanks to the generous support of the Dane G. Hansen Foundation. For more information or if you have questions, please contact us at 785-689-4846.?We hope to see you at the Museum.?