/

/

Horizon Leads Committee organizes Community Block Party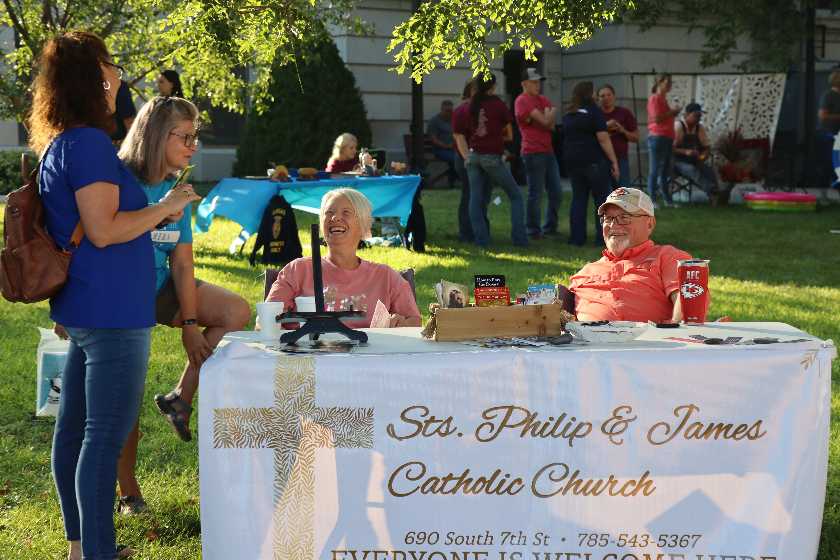 Members of the Saint James Catholic Church share information about their church at the Community Block Party. Photo by Jocelyn Billings
Saturday, August 26, 55 community organizations participated in the Phillips County Block Party.
This event had a variety of organizations, from local churches to high school clubs and more.
With a total of 13 members, the Phillips County Horizon Leads program put together a Block Party as part of a yearlong curriculum that will address community betterment. To promote connectivity and inclusion, the committee felt a block party would introduce newcomers to resources available and highlight the community's strengths.
Foundation member, Pam Crist, sparked great interest in promoting Phillipsburg and what it has to offer.
"Through our meetings, we came up with the Community Block party in hopes new people would see what Phillips County had to offer and meet new people, and existing residents would reconnect with current community members," Crist said.
During the event, participants and members of the community learned about what Phillips County has to offer and received goodies from the participating organizations.
"We received a great response and had a total of 55 Tables with resources, giveaways and information," Crist explained.
The committee felt that the block party was successful and has plans to continue the celebration in some capacity in the future.