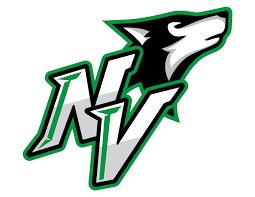 The Northern Valley Jr. High football team won their second game in a row with a wild 98-49 win over Triplains/Brewster in Long Island. The game ended in the third quarter due to the 45-point rule.
The 98 points scored by the Huskies set a school record for most points scored in a game.
Griffin McKinney had another big night, rushing for 343 yards and 8 touchdowns. Lucas Hansen also ran well, rushing for 157 yards and 6 TD's. McKinney also led the defense with 16 tackles and 2 fumble recoveries. Hansen had 8 tackles and an interception, while Bryson Wilder collected 6 tackles and 2 fumble recoveries. Other Huskies were able to score on the one point conversions following touchdowns. Aaron Horacek ran for two conversions, Keelan Dockendorf caught two conversion passes and Malikiah Hitt caught one.