/

/

Museum News (November 20, 2023)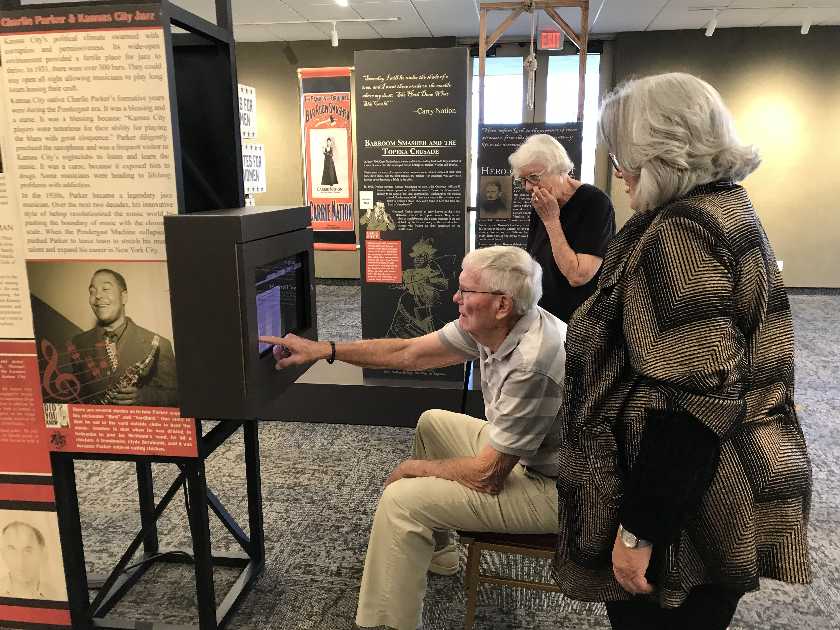 Testing their eyewitness skills with the screen-based puzzle, these visitors enjoy the NOTORIOUS exhibit at the Hansen Museum.
If you weren't at Morris Engle's I Love a Piano II program last Sunday at the Hansen Museum, you really missed something special. Dressed as a bandleader in a tuxedo, Morris took listeners on a musical journey through the Big Band era of the 1930s. Starting the afternoon off with a toast, he instructed listeners to sit back and imagine they were in the grand ballroom of New York's famous Waldorf-Astoria hotel. Museum staff made imagining such a lavish atmosphere a little easier with elegantly set tables, each hosting their own bottle of bubbly (sparkling juice). Morris entertained with his musical aptitude at the piano giving tidbits of information about songs, bandleaders, and history of the era throughout the program. Through and through it was a lovely afternoon and we sincerely hope Morris will grace us with an I Love a Piano III in 2024.
After Morris's wonderful program, several folks took time to enjoy our current exhibition NOTORIOUS, a historical exhibit about "infamous" Kansans. It was fun to see folks of all ages enjoying the interactive portions of the exhibit. Many sat down to test their eyewitness reliability at the touch screen kiosk. Turns out not everyone is super observant. Others tried their hand at the dowsing rods.
NOTORIOUS is filled with fascinating information about interesting characters like John Brinkley, Carry Nation, Bonnie & Clyde, and more. One guest had family who were neighbors to John Brinkley in Milford. Another found the letter that Clyde Barrow wrote to Henry Ford praising his auto making skills quite comical. These colorful characters helped shaped the state we know and love today. This exhibition is fun and informative, always a winning combination. Take time to come explore these notorious figures from Kansas' past.
The Hansen Museum is delighted to have Mrs. Gottstine's Plant & Soil Science class back on our continuing education schedule again. On December 19th these students and their gifted teacher will be holding a Christmas Floral Design class in the Community Room. Mrs. Gottstine and her students will lead participants in arranging a long-lasting winter bouquet using a mix of winter greens, pinecones, flowers, seasonal berries, and ribbon all set in a festive pot. Class size is limited, and pre-registration is required. Call 785-689-4846 for registration information.
Marcia Anderson of Cedar, Kansas is November's Artist of the Month. Marcia is a marvel at beading, creating stunning jewelry and Christmas tree ornaments. Any of her beautiful creations would make excellent one-of-a-kind holiday gifts. Marcia's work is on display and available for purchase throughout the month of November.
NOTORIOUS will remain on view through January 28, 2024. Keep up to date with Museum happenings by following the Museum Facebook page. The Museum is open Mon. through Fri. 9-12 and 1-4; Sat. 9-12 & 1-5; Sun. and holidays 1-5. We are closed Thanksgiving, Christmas, and New Year's Day. We are handicapped accessible, and admission is always free thanks to the generous support of the Dane G. Hansen Foundation. For more information or if you have questions, please contact us at 785-689-4846. We hope to see you at the Museum!